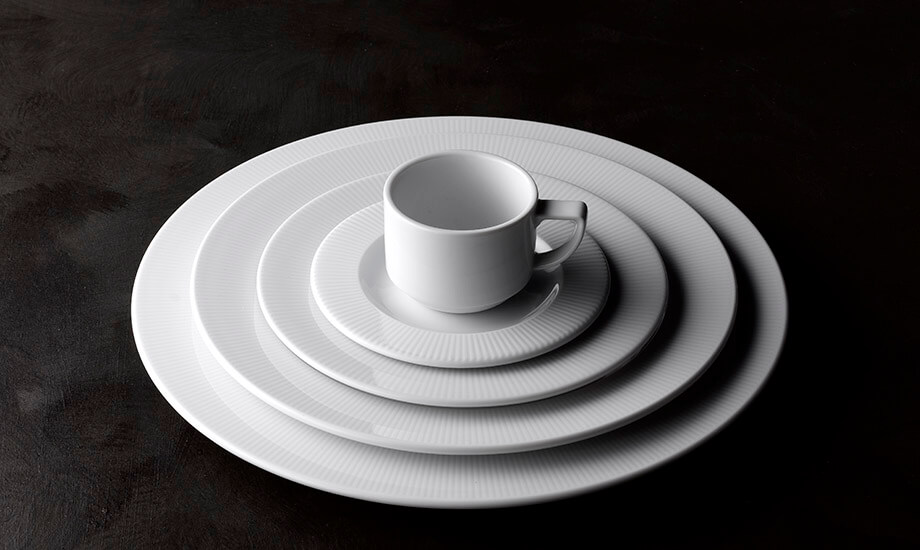 Professional Porcelain: Resistance and Elegance in one single piece!
Porcelain is one of the most resistant ceramic products, for it includes, within its composition, with feldspar or quartz. These two minerals follow each other, on the Mohs Scale (which quantifies its hardness) to the diamond, corundum and topaz, the most resistant minerals in the planet.
It is not by random that, either in our homes or hotels and restaurants, tableware collections are composed by porcelain pieces. Resistance, whiteness and durability of the materials, makes them the ex-libris of any living room or kitchen.
Porcelain is obtained through a complex and strict production process, which grants it with waterproofness and hardness, by allowing it adaptability to different tastes and contexts.
The creation options for porcelain pieces are infinitive and are not confined to traditional tableware. Increasingly, we find, in living rooms and kitchen, articles carrying modern designs, which highlight food items served or stored in them. Aesthetics has been increasingly highlighted by helping cook becoming an art. But that is not the reason why we should not care about resistance.
Professional porcelain: Resistance vs Elegance!
Professional market tendency for thicker lines has been leveraging discussion around porcelain collections' resistance and elegance.
Shall hotel or professional usage porcelain be resistant or elegant? This is an old argument, but the burden may not only be in one of these characteristics. Porcelain may be resistant and, simultaneously, elegant, as long as the choice is made amongst the best quality products in the market.
The last two decades were marked by different attempts in developing thicker lines, without losing materials resistance. The aim is about having lower thickness parts, but also resistant to mechanical impacts and chemical aggressions, just as the well-known metal marking.
Costa Verde, as an important world porcelain producer to the professional market – or food service – has been developing lines marked by resistance, connected to elegance and soft touch, only provided by porcelain. We can say, thus, that the combination between resistance and elegance comprises the onus for the professional porcelain. Market no longer demands it from the porcelain product, it is something which he expects to find in it.
Through the frequent conduction of border impact test, handles' resistance and metal-marking, some performed by independent laboratories, Costa Verde ensures a quality and modern design product. But, more important than that, to this strategical business area, ensures a product which meets the needs of any chef, f&b director or, even, hotel manager. Costa Verde assumes itself much further than a simple supplier, more than a porcelain producer to hotels and restaurants, it is a business and operational partner.
---
Subscribe our blog!